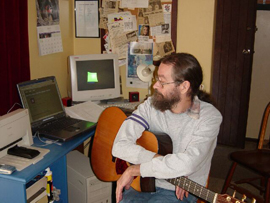 As your Guitar Tutor I consider it my duty to teach you how to use the musical tool of your choice i.e. the guitar, so that you can play the music of your choice.
If you are a classical music/guitar buff I suggest you look elsewhere. My interest and area of expertise is in contemporary guitar, guitar as it is played today.
As your tutor I suggest that you learn to read music, music theory, chord scale relationships etc as applied to modern musical situations. Most of all a thorough knowledge of the guitar fingerboard will place you in good stead for a lifetime of development. Thousands of guitarists have come before us over hundreds of years. It is their knowledge and experience that is passed on by the experienced and enthusiastic guitar tutor.
WHY TRY RE-INVENTING THE WHEEL?
Quoting Charlie Parker (Jazz Saxophonist):
"One, master your instrument. Two, master your music. Three, forget all that and just play."
Quoting Tommy Emanuel (When asked by Richard Wilkins what advice would he give to a budding young guitarist he replied...):
"Get a good teacher, learn to read, and be influenced by as many different types of music as possible."
TEACHING HISTORY:

1974 - 1978, Victoria:

Brashes Music Frankston
Guitar Tutor - 3 years
Musical Director Ian Grattidge
Peninsular Boys Grammar Mount Eliza
Guitar Tutor - 3 years
Musical Director John Kirkham
Toorak College Girls School Mount Eliza
Guitar Tutor - 3 years
Musical Director Miss Woods
Stellar Maris Girls School Frankston
Guitar Tutor - 6 months
Musical Director Ms Strickland
Adult Education Classes at Peninsula Boys Grammar and Toorak College

1978 - 1982, Victoria:

Private Tuition Frankston
Guitar Tutor - 4 years
Yamaha Music School Dandenong
Guitar Tutor - 3 years
Musical Director Margaret Meares/Hill
Pines Estate Resource Centre
Guitar Tutor - 2 years
Coordinator Wayne Hoare
Mount Martha Adult Education
Guitar Tutor - 2 years
Coordinator Jocelyn Kennedy
Adult Education Classes at Peninsula Boys Grammar and Toorak College


1982 - Present, Western Australia:

Private Tuition Gosnells
Guitar Tutor - Since 1982

Highway Music School Victoria Park
Guitar Tutor - 12 years
Musical Director Noelene Ketterer/Beacham
Yamaha Music School Rockingham
Guitar Tutor - 5 years
Coordinator/Principal Teacher Lisa Bennett
Roleystone Primary School
Guitar Tutor - 1 year
School Principal David Allen
Armadale Police & Citizens Youth Club
Guitar Tutor- 5 years
Coordinator Constable Andy Taylor